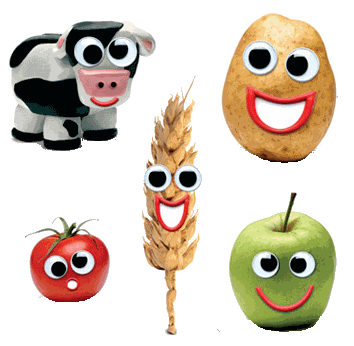 Food and Farming
For her Food and Farming project, Darcey decided that she'd like to make a set of Top Trump cards.
She found a set of Top Trumps and counted the number of cards and categories. She also measured the cards and decided that:
there should be 5 categories

there should be 30 cards

each card should be 10cm tall and 6cm wide
Darcey then decided what her 5 categories and 30 crops should be. She used Google to find the information, and typed it into a database. She also saved the pictures from the web-sites onto our computer.
She chose the font and colours and designed the template for a card. Daddy then wrote the program to put the information from the database into the cards.
Categories
Continents: the number of continents on which the crop is widely found. The only continent that produced no crops was Antarctica.

Species: the number of species available. Species are separate types that cannot be crossed or bred together, and isn't the same as a "variety". For example, there are 7000 varieties of apple, but they are all the same species. On the other hand, broccoli and cauliflower are actually varieties of the same species.

Calories: the amount of energy that the crop typically contains, measured in calories per 100g.

Protein: the amount of protein in each kilogram of the crop.

Uses: how many different things the crop is used for (on a scale from 1 to 5) - for example, some crops are eaten, squeezed for oil, ground for flour, or used to make cosmetics, medicines or other materials.
Click here to see the cards. If you would like to print a set, make sure that you have chosen the option to print background colours if you would like them to appear as they do on the screen.